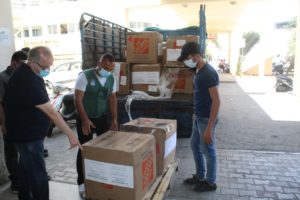 As you may know, on August 4th, an explosion occurred in Beirut, Lebanon which resulted in over 220 deaths, 6,000 injuries, and the displacement of over 300,000 individuals who lost their homes. It has now been almost 3 months since the tragedy that occurred in our beloved Beirut, and our people are in dire need. This need is intensifying and growing exponentially, and the matter of financial and medical aid is desperate. The Middle Eastern Pharmacists Association (MEPhA) of California, American Lebanese Medical Association (ALMA) Los Angeles Chapter, and Cedars Relief have worked with countless individuals, health systems, organizations and donors in Southern California and nationally to provide medications and medical supplies to many hospitals, clinics and convents in Lebanon. Through these efforts, we bought over $27,000 worth of medications and received over $500,000 worth of medical supplies, and these have all been successfully delivered. We secured reliable and efficient means of transport to Beirut, and we have forged alliances with many reputable organizations and NGOs, who are making this all possible. As part of a national coordinated effort by the Ghassan and Manal Saab Foundation and the American Task Force on Lebanon, ALMA-Los Angeles has had a direct role in the relief efforts, along with Cedars Relief and MEPhA. In fact, a plane carrying over $12 million dollar's worth of medical and surgical supplies touched down in Beirut, and within 6 hours, our portion of the donated supplies reached our target hospital, Rafic Hariri University Hospital. We have sent EKG machines, medication, wound care supplies, personal protective equipment (PPE), surgical instruments and more to various smaller clinics and convents throughout Lebanon.
Our current project is to supply a container of medical supplies to Centre Hospitalier-Notre Dame des Secouers (CHU-NDS), which is the hospital owned by the Lebanese Order of Maronites, and affiliated with USEK in collaboration with a non-proft organization Hospital Sisters Mission Outreach. I can assure you that they are in dire need of our help, as they have graciously undertaken the task of caring for those with chronic medical conditions (ie dialysis patients, chemotherapy patients…) that have been displaced from other hospitals that were directly affected by the Bierut port explosion.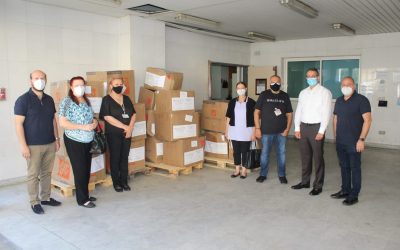 Our work is far from over, but we cannot move forward without your support. We are continuously receiving requests for aid from various clinics and hospitals all over Lebanon, and are diligently working to fulfill these requests. The need is still great, and we are seeking your help. Through your generous donations, we hope to distribute to them much needed medical supplies.

Monetary donations can be given through this website: https://almamater.org/page/aug-4-2020. Donations will be used to continue paying for medical supplies, medications and shipment fees. Please visit mepha_CA, alma.socal and cedars.relief instagram pages for photos and information on previous and future shipments to Lebanon.