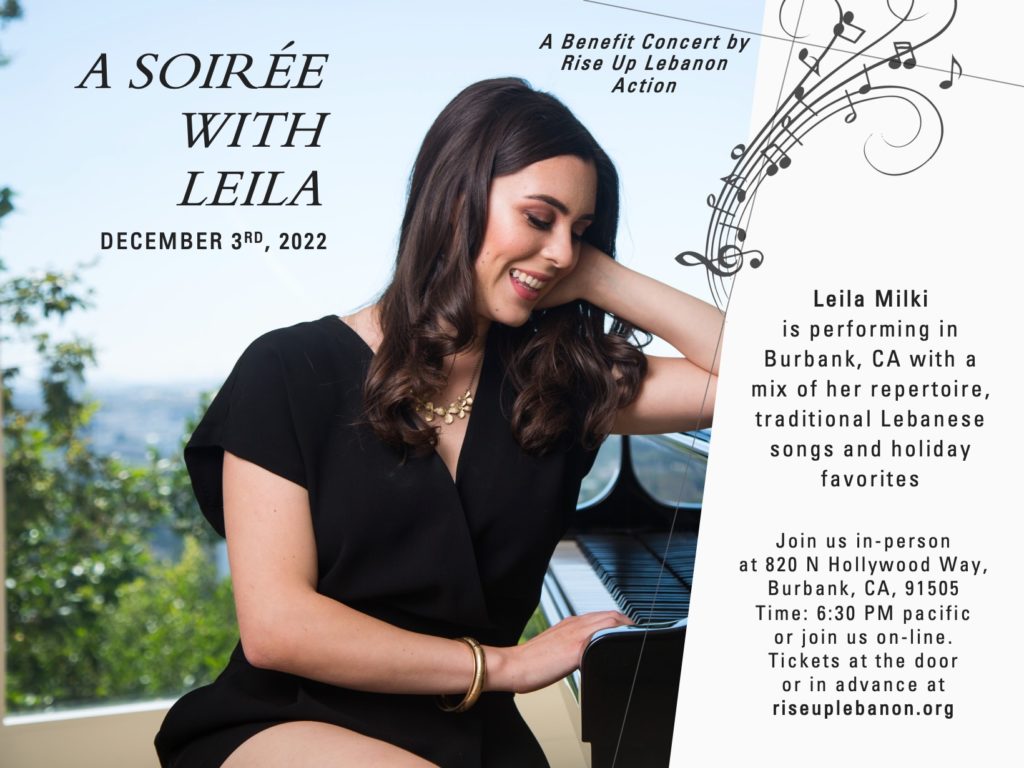 Rise Up Lebanon is proud to present A Soirée with Leila, a benefit concert featuring the music of Leila Milki.

Join us December 3rd for an evening of music including favorites from her repertoir, traditional Lebanese songs, and holiday favorites. This fundraiser will support the ongoing efforts of Rise Up Lebanon to alleviate the suffering and enhance the lives of Lebanon's vulnerable communities.
Leila Milki is an award-winning Lebanese-American singer, songwriter, and classical-pop pianist based in Los Angeles. Most recently recognized as one of Arab America's "30 Under 30" honorees, she strives to translate her artistry into a healing platform for emotional and multicultural empowerment, while elevating visibility for fellow first-generation daughters of the Arab diaspora. Her Arabic/English fusion work has earned her a Grand Prize and Lennon Award in the John Lennon Songwriting Contest (with her homeland tribute "Leil Ya Leil"), along with a feature in Disney's Emmy-nominated series "The Rocketeer" (with her song "Enjoy Your Meal," a festive tribute to Lebanese cuisine and Arab women across generations). Learn more about Leila at her website.